Reader! lover of books! lover of heaven,
And of that God from whom all books are given,
Who in mysterious Sinai's awful cave
To Man the wondrous art of writing gave,
Again he speaks in thunder and in fire!
Thunder of Thought, & flames of fierce desire:
Even from the depths of Hell his voice I hear,
Within the unfathomed caverns of my Ear.
Therefore I print; nor vain my types shall be:
Heaven, Earth & Hell, henceforth shall live in harmony.

from the preface to Chapter I, Jerusalem, by William Blake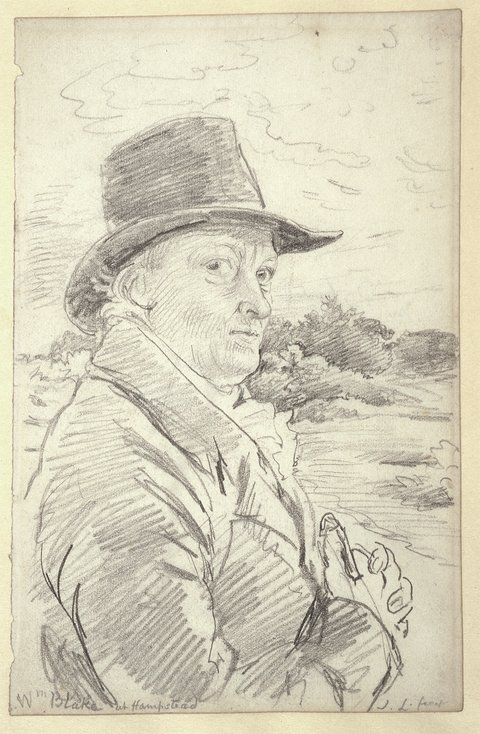 Twenty one decades separate between William Blake's only solo exhibition and the retrospective exhibition, titled "William Blake", that has recently opened at Tate Britain.
The first exhibition was at Blake's brother's hosiery shop in Soho. Sixteen pictures were displayed for show and sale, including "The Ancient Britons", the largest picture Blake ever made. The price for admission was one shilling, the same as the much larger and more prestigious exhibitions at the Royal Academy and at the British Institution. Blake's exhibition was attended by few, and the only review it received was from The Examiner. It was published anonymously in the issue for 17 September 1809:

"…When the ebullitions of a distempered brain are mistaken for the sallies of genius by those whose have exhibited the soundest thinking in art, the malady has indeed attained a pernicious height, and it becomes a duty to endeavour to arrest its progress. Such is the case with the productions and admirers of WILLIAM BLAKE, an unfortunate lunatic, whose personal inoffensiveness secures him from confinement, and, consequently, of whom no public notice would have been taken, if he was not forced on the notice and animadversion of the EXAMINER, in having been held up to public admiration by many esteemed amateurs and professors as a genius in some respect original and legitimate."
(from G. E. Bentley Jr's biography of William Blake)
The admission price to the exhibition at Tate Britain (one of the most visited museums in the UK) is 18 pounds, but it includes over 300 of Blake's watercolours, paintings and prints, as well as "an immersive recreation of the small domestic room in which Blake showed his art in 1809", and a promise that one will be able to experience "the impact these works had when they were shown for the first time. In another room, Blake's dream of showing his works at enormous scale will be made reality using digital technology."
Those of us who live faraway and cannot see the exhibition, get a glimpse of what to expect in a video trailer.
Modern critics' reviews are more civilized: